Accountant Jackson Wong jumps out of a plane!
If you had a choice between shopping and skydiving, which would you choose? The principal accountant of success tax professionals Yangebup chose skydiving. Anything to get out of shopping for the day, even jumping out of a plane at 12,500 feet!!
If you need some sky-high accounting advice, visit Jackson at his Yangebup practice.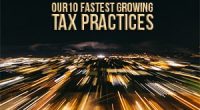 These tax practices and their principal accountants consistently ...