Hiking the Cape to Cape Track in 4 days!
The Success Tax Professionals team hiked the iconic Cape to Cape Track (Western Australia) in 4 days!
CEO Darren Gleeson, Digital Marketer Roydon Snelgar and client John Albano.
We began our adventure at 9:00am on a Thursday morning from Cape Leeuwin lighthouse and arrived, 135 km later at Cape Naturaliste lighthouse on the Sunday just before noon!
We took everything we needed; food, water and shelter on our backs and slept where we could when night fell. Taking the bare minimum to keep our packs as light as possible, our sleeping bags were more like swimming pools when the weather struck!
So, on the last night, when it rained for 18 hours straight, a hot cup of coffee got us up and walking again at 2am. We walked through the night with an infrared headlamp for guidance, and finally arrived at the Cape Naturaliste lighthouse in time for lunch!
A life-changing experience and an amazing adventure. If you haven't walked the Cape to Cape, get out there and do it! Just take a few more days than we did 🙂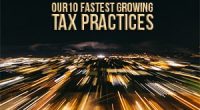 These tax practices and their principal accountants consistently ...