Celebrating 15 Years as a Provider of Accounting and Taxation Franchises
In March 2018 Success Tax Professionals celebrated 15 years as a provider of accounting and taxation franchises in the business services industry. As of July 2018 the franchise network boasts 80 franchises.
The network's Franchisee Development Director, Tracy James says,
"We're incredibly pleased with this milestone. It's a result of our deliberate focus to fine tune our business model and evolve with industry and market changes plus the growing expectations of the consumer and what they expect from their public practice accountant. This has allowed us to provide a system with support mechanisms and criteria that can genuinely help our recruits on their journey to tax agent status and in building practices that are not seasonal, but fully functional, all year round businesses that are viable and growing. Our franchisees are coached to provide services that add value, so this means services outside of compliance which we see as a very standard non-value adding function. We've seen quite a few industry competitors who have offered franchises remain small or stagnate and disappear. We've seen others rightfully challenged by the Tax Practitioners Board regarding the levels of supervision they provide or rather do no provide. And we continue to see franchise groups not develop their franchisees beyond being compliance tax preparers, which typically results in very low revenue, lost opportunities and non-viable ventures. We however have remained true to our vision to provide a structure that keeps up with change and delivers a balance of technical and business development systems and we don't compete with our franchisees by running our own accounting practice. We develop and provide support mechanisms as our main business. We're very specific. Data tells us that in Australia, we are currently ranked third after H&R Block and ITP the dominant tax preparer groups who have been going for over 40 years now."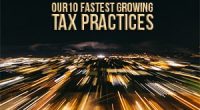 These tax practices and their principal accountants consistently ...