We had a great day participating in the HBF Run for a Reason 2023!  We did the 4k, 12k and half marathon. Some of us walked, some of us ran but we did it! A spectacular day focusing on health, charity, community and wellbeing!
Please join the Success Tax Professionals HBF Run for a Reason team next year and get involved!
Congratulations to every Success Tax Professionals franchisee that participated this year!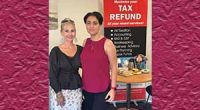 Today we dropped in to see our franchisee, ...