Mirrabooka Shopping Centre Services 2015
Customers of accountant, Vince Tomazin who previously provided services at Mirrabooka Square Shopping Centre, can now contact our Morley or Ballajura Offices which are conveniently located close by. Our services are no longer available at the shopping centre.
Morley Office:
Shop 3, 16 Bishop St, Morley WA 6062
Tel: 08 9375 5707
Ballajura Office:
Shop 23, Ballajura City Shopping Centre, Ballajura WA 6066
Tel: 08 9249 4420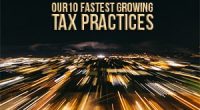 These tax practices and their principal accountants consistently ...