New principal owners at Success Tax Professionals Burswood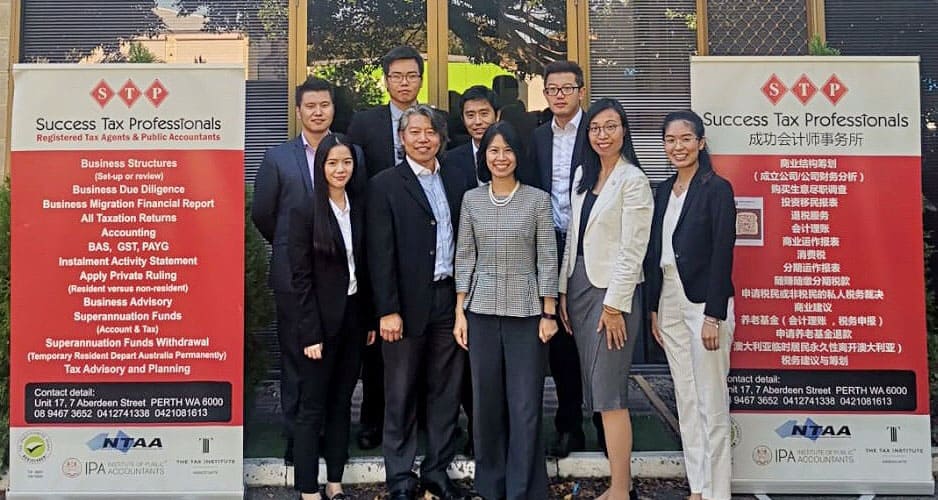 Success Tax Professionals Burswood welcomes James Jin and Stone He, who as employees of the practice have now become the principal owners and new franchisees. It is great to have two new enthusiastic franchisees who have had the opportunity to work with principals Stella and Mike and who know the clients of the practice. James and Stone will be adding their own touches to the practice and starting a new journey with the Success Tax Professionals franchise
Stella and Mike's story:
In 2003, The Success Tax Professionals franchise was born and that same year, recruited two fabulous new franchisees, Stella Leong and Mike Ng – a husband and wife team. Stella and Mike have been by our side through our 17-year journey, believing in the franchise and building an incredibly successful practice.
We've had lots of fun together over the years. With Stella and Mike being in WA, they initially moved into our head office, which at the time was in the suburb of Myaree. Head office occupied the upstairs area and to be honest there was no downstairs area (just a stairwell and a space beneath the stairwell and to the side of the staircase at ground level). The ingenious, Mike Ng, converted that space into a partitioned and self-contained work area for Stella and himself (and staff).
We finished work one Friday evening, came in on Monday morning and what was once an empty space had been fully transformed over the weekend by Mike – partitions, desks, chairs, plants – the works. These extreme renovation shows on TV have got nothing on what Mike and Stella can achieve.
It was nice being able to chat with one another throughout the day and Stella and Mike never had far to go to ask questions. They would just pop upstairs.
From these humble beginnings, they later expanded to an office in West Perth, followed by Aberdeen St in the city and finally to three levels in Burswood.
One year we caught up with Stella and Mike in their native, Singapore while they were visiting family and we were on holidays. What a great time – we had chilli crabs out in the open at a nearby restaurant and later in the evening helped Stella's father drink the best part of his very expensive bottle of Rémy Martin Louis XIII Cognac. There was exquisitely aged tea, chocolates, and a special pork jerky – Stella's family being extremely hospitable and welcoming.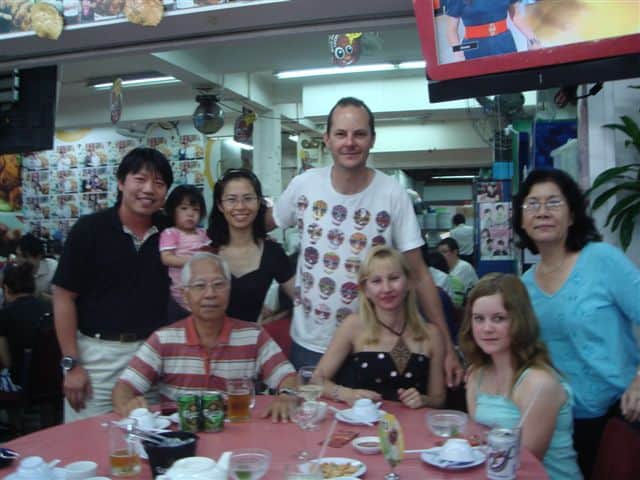 Mike, the avid Manchester United soccer fanatic has also had us attend local games – including MU when they came to Australia. When we were in Manchester, Mike had us bring back an official guernsey shirt from their grounds and gift shop!
Mike, (another franchisee, Ben Banai from the Ballajura office) and Darren (Managing Director at Success Tax Professionals) also did a 40KM hike in summer on the Bibbulmun Track some years ago which included an overnight stay in one of the huts. Mike, the ever-resourceful is the first person Darren knows to have walked the track armed with a jumbo can of fly spray in hand to banish the March flies that plagued the trip from start to finish. I think all were thankful for his smart thinking. I'm sure Ben still has fond memories of the trip as well – even though the heat was torture.
In 2008 I noticed that Stella had developed a bit of a waddle and sway when she walked – yes – she was pregnant. I guessed that one before she confirmed it. Daughter, Isabella, was born (early and well before her expected date). Stella came into the office and I asked when the baby was due and she said not for some months – well over that weekend Isabella arrived! Many WA franchisees have had the opportunity to see Isabella grow up. Next year she will be at high school. How time flies. She is a credit to Stella and Mike's careful and diligent parenting – polite, well-mannered, thankful, lively and very capable.
Stella and Mike have been exceptional team members and we feel privileged to have had them as a part of our network all these years. Additionally, the friendship that we have with them cannot be underestimated. We thank them for their efforts, support, positive outlook and work ethic.
Well, Stella and Mike are making changes.
Their Burswood practice has been for sale for some time and has now sold. Settlement went through on Monday.
We say goodbye to Stella and Mike as franchisees and wish them much happiness and enjoyment out of whatever they now choose to do.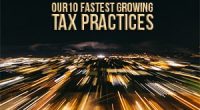 These tax practices and their principal accountants consistently ...