East Coast professional development workshop 2023












East Coast professional development workshops were held in Melbourne on 16/6 and 17/6 by the Success Tax Professionals franchisor for east coast franchisees. Thanks to those who travelled for the sessions.
Our mid-year dinner was held at The Moat restaurant in Melbourne on Little Lonsdale Street. Thanks to all who attended and made it a fun and entertaining night. There is no doubt that Success Tax Professionals has a strong team, support and social culture amongst its franchisees and the franchising division from head office.
Many thanks to the staff and events coordinator at The Moat for impeccable service and great food that was enjoyed by all who attended. Nothing was too much trouble for them and they were attentive and meticulous about providing a high standard on all levels.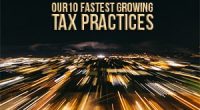 These tax practices and their principal accountants consistently ...