Record Month for Success Tax Professionals

Record July 2017 – Fees are up 16% over July 2016
Monthly highlights:
Audrey de Beer (Joondalup/Clarkson WA Offices and significant CML client base)
1st franchisee to achieve over $200,000 fees in a month ($202,120).
Number of salary returns lodged has dropped 10% compared to last year. This reflects the trend within the whole industry for salary and wage return losses due to MyTax.
Total monthly fees are up 10% over last year. This is due to investment and focus on new services, business clients and monthly Cloud Packages, etc.
Munit Goyal (Cockburn Central, WA)
2nd franchisee to achieve over $100,000 of fees in a month ($101,255).
Achieved with no web-site, no Facebook/social media.
Generated by:
High profile office in a vibrant growth area with dynamics.
Best legal result for every client. For example, every new client is provided with a review of the prior two years of tax returns and these are amended to include omitted deductions (where found).
A value adding service that is charged out at rates approximately 1/3 of the revised refund calculated. Munit has established a reputation for being the number 1 accountant to go to by clients who have spread the word about his credibility and results. Munit is not your average accountant. He is genuinely proactive.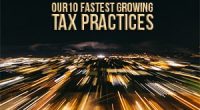 These tax practices and their principal accountants consistently ...