Ron's Tax Service – New Name & New Locations
In 2016, Success Tax Professionals accountants, Kervin Kupp and Robert Ellis purchased the practice of Ron Middleton (Ron's Tax Service – formerly located at 10 Wright Street, Kewdale). The two principals in 2017 decided to undertake expansion and as a result relocated to two separate, and independently run practice locations in the nearby suburb of Carlisle. Most clients of Ron's Tax Service would have by now met either Kervin or Robert as a part of receiving their services, or received correspondence from one of the two accounting principals, advising of Ron Middleton's retirement and the new practice locations. If you are not sure which of the two practices is now responsible for managing your on-going tax or accounting needs, please contact one of them and they will check the details for you.
The former practice of Ron's Tax Service is now known as Success Tax Professionals. The two independent branches are located at the following addresses:
Kervin Kupp
Success Tax Professionals
2/33 Archer Street
Carlisle WA 6101
Tel: 08 9370 5515

Robert Ellis
Success Tax Professionals
1/262 Orrong Road
Carlisle WA 6101
Tel: 08 9361 0393
Both practices also welcome new business from individuals, small to medium business and SMSFs.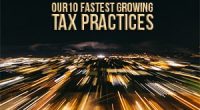 These tax practices and their principal accountants consistently ...