Success Tax Professionals in Glen Waverley have moved
Our Glen Waverley accountants, Maggie Lua and Tina Yu have moved office to 13 Hampshire Road, Glen Waverley VIC 3150. For an appointment for tax or accounting services, including business services such as BAS, Instalment Activity Statements and setting up of companies or other structures like partnerships or trusts, phone: 03 8555 2900.
Practice Principal, Maggie Lua and senior accountant Tina Yu are also available for advanced services including tax planning and Self Managed Super Funds (SMSFs).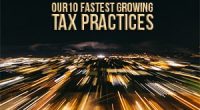 These tax practices and their principal accountants consistently ...