Sydney training day and end of year function
Registered tax agent and professional development manager Phuong Dang hosted a self managed super funds training day yesterday in Sydney, followed by a 2021 end of year function at the Carnival Golf Course.
The event was attended by Joanne Nguyen, Nisha Gurung, John Clarke, Kyle Fang, Leo Wang, Rizwan Chowdhury and Amit Thakor.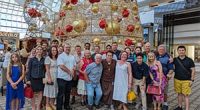 A fantastic end of year celebration at the ...