Sydney training day and end of year function
Registered tax agent and professional development manager Phuong Dang hosted a self managed super funds training day yesterday in Sydney, followed by a 2021 end of year function at the Carnival Golf Course.
The event was attended by Joanne Nguyen, Nisha Gurung, John Clarke, Kyle Fang, Leo Wang, Rizwan Chowdhury and Amit Thakor.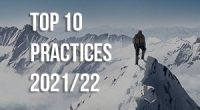 Congratulations to our top 10 performing practices for ...