Success Tax Professionals Castle Hill
Success Tax Professionals Castle Hill is located at the walkway between Castle Towers Piazza and the entrance of Castle Mall. Customers will find plenty of car parking opportunities nearby. The practice conveniently offers services by appointment or on a walk-in basis.
Small businesses also have the opportunity to make a time for a free initial consultation. This provides an excellent avenue to run through the basics of your business needs or concerns and to gain an insight into what the options or path to a solution might be.
Success Tax Professionals Castle Hill provides seamless accounting and taxation services for small businesses, individuals and SMSFs. Extensive services for small businesses include addressing commencement, day to day operations, growth and expansion and also cessation or sale of business.
Many small business owners are becoming more and more concerned about the lack of advice received from their industry accountant. The accounting principal of Success Tax Professionals Castle Hill, Kyle Fang, however, takes a fresh and uplifting attitude to being approachable, contactable and accommodating.
Kyle explains, 'Tax and accounting can be managed effectively and in a systematic way when a practice genuinely provides proactive advice and solutions. At our practice we do not just fulfill the job requirements but we also listen to each client's unique circumstances, tailor advice specifically for the need and can offer strategies and products to help owners grow and improve their business with a vision to the future. Importantly, we communicate. We share our knowledge and expertise.' 

Kyle adds, 'No job is too small. We use everyday language instead of accounting jargon. It's important that our clients understand exactly what is happening and also what is required to meet ATO obligations or to produce the best legal result possible. In order to take advantage of options and benefits you have to be informed and that is an essential function for us – keeping our clients informed. We also encourage our clients to ask questions.

'We are happy to help individuals, for example, wage and salary earners who need their tax return completed and want to get the best possible refund or tax minimisation. You don't have to be a small business to use our services. Sole traders, partnerships, companies, trusts and SMSFs along with many other different structures (including those structures that are not as well known) are able to access our services. We use thorough processes at an affordable cost.'
Practice services include:
Accounting, BAS & GST,
Instalment activity statements,
Business structure set-up and review,
Business advisory and consultative services,
Taxation returns (individuals, sole traders, partnerships, companies and trusts),
Review of tax returns and amendments,
Tax planning,
Negative gearing and rental properties and
Self managed super funds (set-up, account, tax and audit)
(Mouse over image to pause)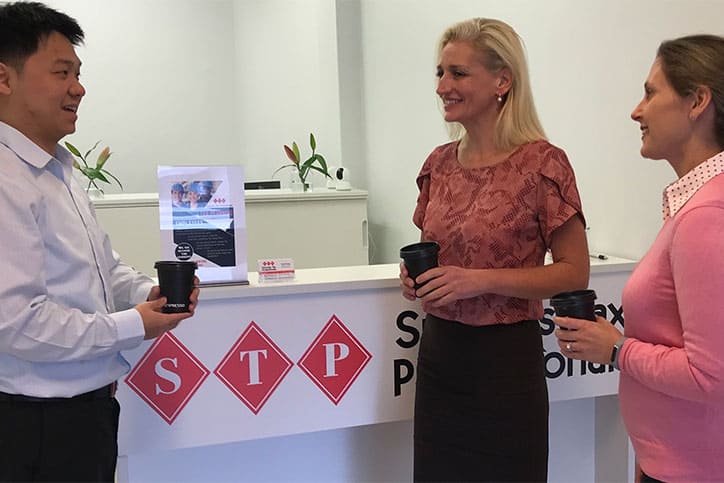 Make an appointment today or walk-in to discuss your tax or accounting needs.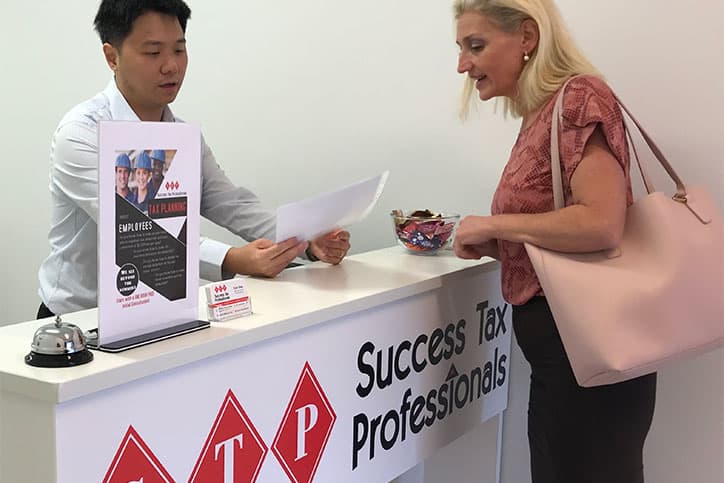 Success Tax Professionals Castle Hill has a strong focus on communication and keeping clients informed.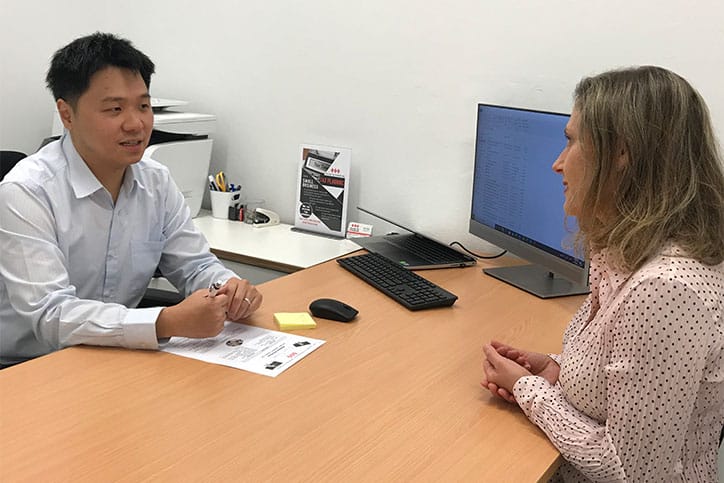 Principal, Kyle Fang meets with a client.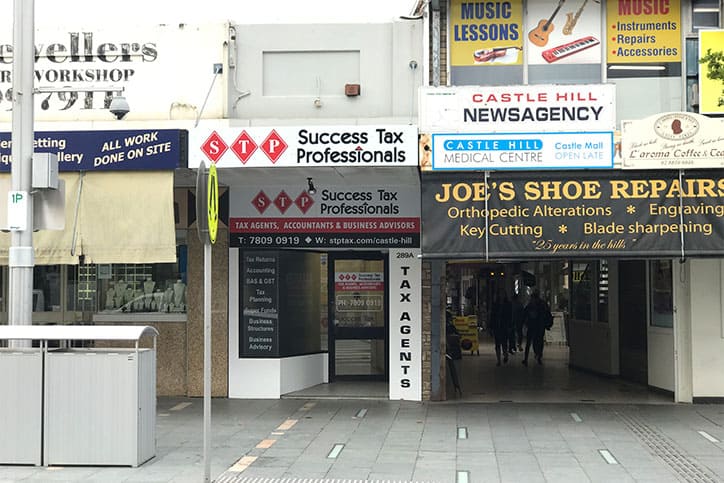 Success Tax Professionals Castle Hill at 289A Old Northern Road, Castle Hill NSW 2154.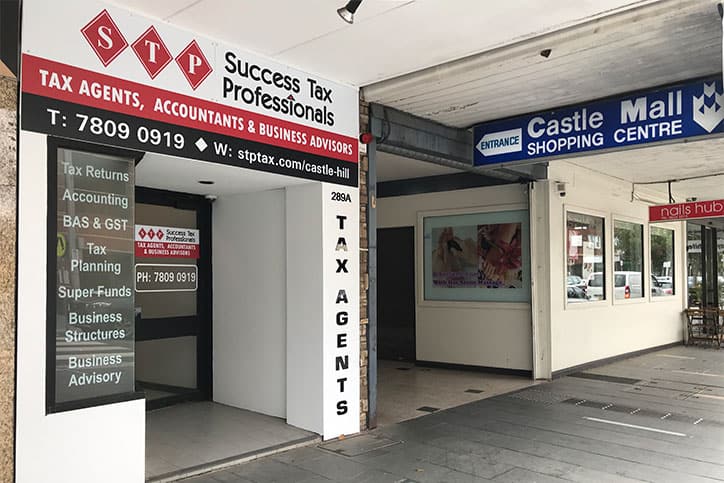 Success Tax Professionals Castle Hill - tax and accounting for small businesses, individuals and self managed super funds.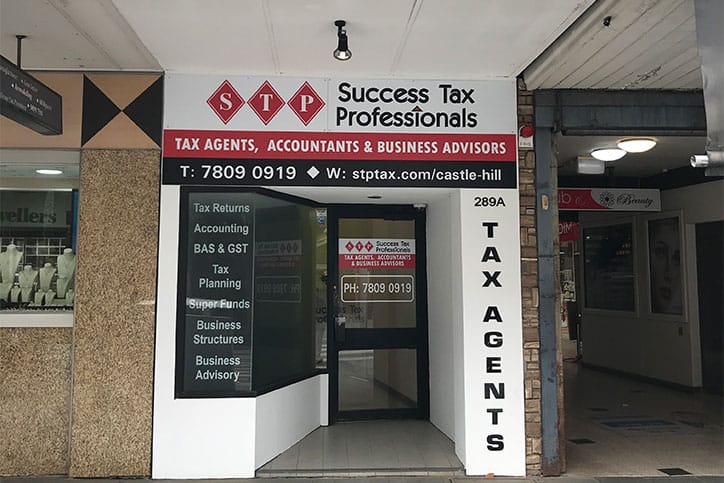 Success Tax Professionals Castle Hill.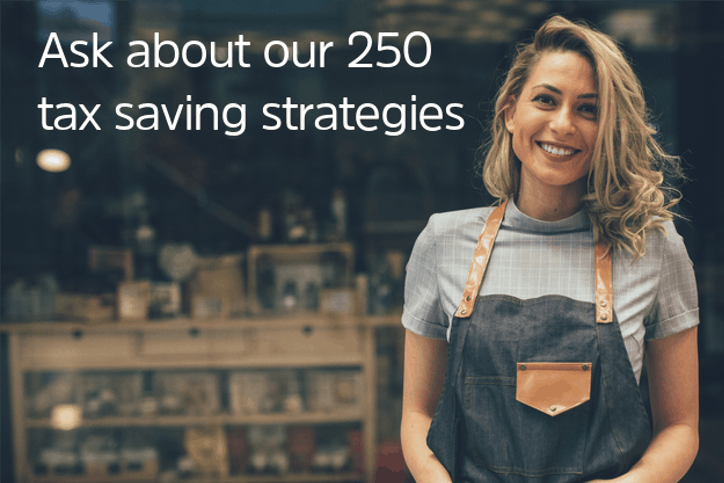 Legally reduce your tax liability and make savings.
289A Old Northern Road
Castle Hill
NSW
2154
Australia
Phone: (02) 7809 0919
Email: [email protected]
Info: Languages – English, Chinese/Mandarin and Taiwanese
Servicing Options
In person at our office
Email
Phone
Online video
We use Zoom, Setmore and Skype
"Received a tax, accounting or valued-added service from our practice?

Complete our feedback survey form and tell us more.

You can choose to share the information you provide about your customer service experience with others or request that it remains private.

Importantly, as your accounting professional, we get to know what your overall experience was like."