100 active tax and accounting franchisees as of the 21st of June 2022!
Wow! Not including retired franchisees or those who have moved on to other careers and had a 'sea change', we currently have 100 Success Tax Professionals franchise operators.
That's 100 franchisees working, growing and expanding their practices as a part of our network of professional public accountants. Many of our franchisees have made the jump from private sector to public practice under our supervisory programmes and coaching systems. Compelling factors for most of our successful franchisees have typically been the absolute motivation to be in a public practice business as an owner, to make a difference and to excel at their craft.
Success Tax Professionals started in March 2003 as a provider of accounting and taxation franchises to accounting professionals. We're proud to say our very first franchisee, Ms Audrey de Beer is still with us. Audrey currently operates from two office locations in Joondalup and Clarkson and her experienced team provides services to businesses, super fund clients and individuals. Plus each year her practices offer additional express tax services at Lakeside Joondalup Shopping Centre and Ocean Keys Shopping Centre in Clarkson (as a convenience service).
Audrey de Beer is one example of a successful journey in our network.
The success of our franchise is however due to the contributions of every franchisee – many who have been with us long-term and strongly feel a part of the culture in our network. We thank all of our franchisees who work diligently and who keep the lines of communication open between franchisee and franchisor so that our network offerings stay fresh and in touch with industry changes.
Over the last 19 years, Success Tax Professionals franchisees have serviced the Australian community and lodged over 1,000,000 income tax returns and business activity statements with the Australian tax office.
Our practices focus on all-year-round services and cater for businesses, self managed super funds and individuals. Our direction has always focussed on providing our franchise practices with skill-level development to escape seasonal peaks and troughs and be serious accounting and taxation professionals.
Who will be our 101st franchisee?
Visit our contact page to find a practice near you.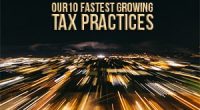 These tax practices and their principal accountants consistently ...