New Accounting Practice in South Lake
Success Tax Professionals in South Lake, WA is the newest addition to our network of accounting and taxation practices and opened on July the 5th, 2018.
The principal of the practice, Nikki Khashaman is pleased to welcome her existing and new customers to her office at Shop 37A / Lakes Shopping Centre, Corner North Lake Rd and Omeo St, South Lake WA 6164.
The practice is conveniently located at the shopping centre which also has major tenant businesses like Coles and Aldi and is surrounded by plenty of parking.
As well as being an experienced and qualified accountant, Nikki has also previously been an owner of a legal consultancy firm. Services are provided in English and Nikki also happens to be fluent in Persian as well.
Services include business and individual taxation, accounting, BAS and GST, business advisory, tax planning and also Self Managed Super Funds. Make an appointment today by calling 9417 1817.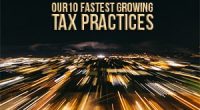 These tax practices and their principal accountants consistently ...