Top 10 Success Tax Professionals Practices for 2014
Every year Success Tax Professionals publishes the networks Top Ten Accounting Practices. Practices are awarded placement based on performance criteria assessed over the 12 month period ending on the 31st of December each year.
Key Performance Indicators (KPIs) and Key Results Areas (KRAs) evaluated include:
Accuracy and Timeliness of work
Office presentation
Customer servicing standards and customer satisfaction
Knowledge and compliance with training attendance and professional development seminars
Management of practice staff
Identification and sharing of best practices and contributions to the network
Overall practice growth and business achievement
We are pleased to announce that our Top 10 Practices for 2014 are as follows:
| | | |
| --- | --- | --- |
| Place | Practice | Franchisee / Principal Accountant |
| 1st | Joondalup, WA | Audrey de Beer |
| 2nd | Midland, WA | Sunil Adiyodi |
| 3rd | Kalamunda, WA | Trevor van Luinen |
| 4th | Wembley, WA | Andrey Wijaya |
| 5th | South Perth, WA | Maya Jayarajan |
| 6th | Cloverdale, WA | Graham Pan |
| 7th | Rockingham, WA | Mark Vernal |
| 8th | Cockburn Central, WA | Munit Goyal |
| 9th | Canning Vale, WA | Nishi Gupta |
| 10th | Perth, WA | Stella Leong and Mike Ng |
The principal accountants of the Top 10 Practices participate in Best Practice Meetings throughout the next 12 months to assist in the development of advancements and improvements for the Success Tax Professionals network. They act as role models and mentors within the network for other Success Tax Professionals practices who may seek advice, support and guidance in areas relating to practice management and change.
Our processes and evaluation of our network practices is reassurance to our clients that we are serious about standards. We are an organisation that follows the principles of 'continuous improvement'. We are also a constantly evolving organisation and we listen to our customers. Our Top 10 Practices therefore play an important role in the identification of improved standards, efficiencies and advancements.
Tracy James
Franchisee Development Manger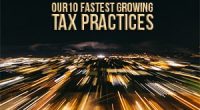 These tax practices and their principal accountants consistently ...