Commoditisation of Professional Services
According to a Deloitte Access Economics report in 2015, digital technologies contributed $78.8 billion to Australia's GDP. By 2020, it's forecast our digital economy will be worth $139 billion.
The effects of digital disruption are seen and felt everywhere and have indeed, caught up with the professional services sector.
Take for example my sector, online legal document services.
An IBISWorld October 2015 report shows the sector in the USA generated revenue of $4B pa, has a 5 year (2010/15) annual growth rate of 10%, employs 28,000+ people through 18,000+ businesses.
The leading USA company in this sector , Legal Zoom, turned over $240M+ a couple of years ago.
According to the IBISWorld report, the USA online legal services industry grew strongly over the five years to 2015 as more consumers demand services to move online. This growth is expected to continue in the five years to 2020 as the number of services conducted online steadily increases.
In Australia, the growth in online legal services has not been as dramatic as that in USA but there are currently about 50 competitors in the sector and growing fast.
So what is the appeal of the sector?   Surveys constantly tell us it's convenience, time saving, cost saving, simplicity, speed and 24/7 availability. Let me give you an example using my firm, Law Central.
Law Central's  proprietary software  uses intelligent technology that asks online questions and depending on the answers given, will insert the appropriate clauses into the online document that is  being constructed.  This partial customisation of legal documents  suits non-complex client requirements which means, it suits many SME businesses.  All our documents, clauses and legal tutor prompts are Australian lawyer produced and therefore the user can safely construct the document with little or no legal knowledge, as they are not actually involved in the drafting of the document. All of the wording is signed off by lawyers.
Our customers have  120+ online  documents to choose from  within the broad headings of Companies,  Trusts,  Superannuation, Estate Planning, Debt Recovery and Employment. Document construction  takes between 5 minutes for simple documents and 15/20 minutes for more complex documents. Price range is anywhere from $22- to $350- per document with documents immediately emailed to the nominated address upon construction and payment (credit card).
Accountants, small law firms, financial planners and small business proprietors are the main users of these services.
Through customer demand, Law Central has also become a valuable information portal for businesses by hosting an array of webinars', Legal Bytes (video podcasts on legal topics) and Audio Bytes (audio only coverage of legal questions) and our Bulletin series (technical legal articles written by lawyers/specialists).
Constant business demand for new and more diverse online legal documents will only but see this sector grow as more businesses discover the benefits of the online legal services sector.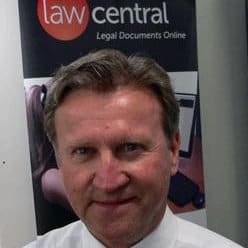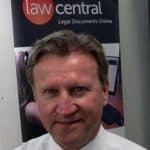 By Mario Surjan
National Business Development & Marketing Manager at
Law Central