Hadel Mikho | The Special Skills Women Bring to Business
I graduated with a Bachelor of Business Administration, however, I always enjoyed working with numbers so I thought doing a Masters in Business (Professional Accounting) would lead me to a job in the accounting field.
While studying my Masters I worked in different admin roles, but I always had a dream to run an accounting practice. After my graduation I joined the Success Tax Professionals franchise as their systems and support allowed me to fast track my career and interest in being a public practice owner.
Starting a business was very challenging for me, especially being a mother of a young son but I was very committed to finding ways to make it work rather than using my family circumstances as an excuse for not exploring options and solutions. One of the major issues was trying to balance family and professional life. For me it involved changes to my pre-business routine. If I have extra work on the day, I now wake up early to complete this so I then have time to spend with my son. Also writing a daily list of everything I need to achieve including personal and business goals helps me prioritise and structure my day to facilitate balance.
I am very proud of what I have achieved so far, putting myself out there. Learning something new every day is stimulating. I see a broad spectrum of people from different ethnic and social backgrounds and find it very satisfying that I can help them.
I believe women, as public practice owners have the opportunity to bring special skills to the business environment, including:
Women have an excellent natural built in sense of balance. We have the ability to manage our responsibilities to ensure each part of our life is cared for. We know that balancing our life gives us a sense of stability to perform what is necessary.
Multi-tasking creatively and productively. From my point of view the best asset women can bring to business is a unique perspective from often having such multi-faceted lives. For example, in my case, being a business owner, wife, mother and daughter I am challenged to multi-task the responsibilities of running a business and also keep family life running smoothly. This takes a combination of organisation and time management skills. Women can be very good at this.
Good listening skills. Women ask questions and have a naturally caring nature and desire to help. It makes women more likely to be flexible and thorough in listening to clients and really understanding their needs and concerns.
Communication skills. Women communicate well and are focused on not just getting a result, but getting the best possible result as they genuinely care by nature. Even when the outcome is not good, women know how to tactfully manage the situation and problem solve. They take that extra step in a caring and sensitive way and clients really appreciate this.
My advice for any woman wanting to start her own accounting practice is to follow your instinct and do not give up! If you feel that you were born to do this, then keep going and educate yourself as much as you can. Knowledge really is empowering. Start where you are, use what you have, do what you can. You can improve, learn and grow as you progress. Nobody has instant success, it takes time and hard work but you will get there if you believe in yourself and persist that you will get where you want to be one day.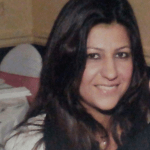 Hadel Mikho – Success Tax Professionals, Werribee Victoria